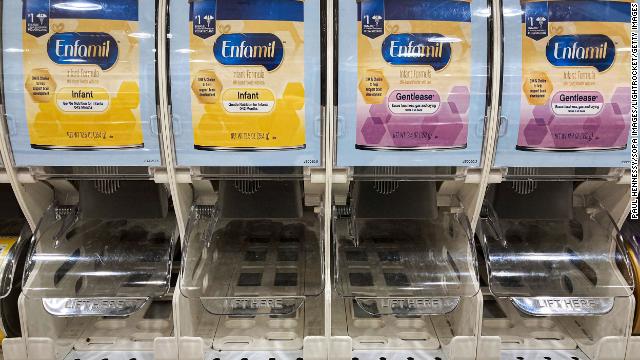 By Alexandra Meeks and Sean O'Key
A nationwide shortage has left parents scrambling to find which product in stores?
Manufacturers say they're producing baby formula at full capacity, but it's still not enough to meet the current demand.
A fleece jacket worn and signed by Ukrainian President Volodymyr Zelensky was recently auctioned off at a fundraiser for Ukraine. How much did it fetch?
The Ukrainian Embassy in London auctioned Zelensky's jacket for around $111,000. The event raised more than $1 million. Other items sold included toys donated by Ukrainian First Lady Olena Zelenska and photos by a photographer killed in the conflict.
The nationwide search for a former Alabama corrections officer and the inmate she disappeared with came to an end this week. In which state was the pair finally caught?
Vicky White, 56, and Casey White, 38, were captured in Evansville, Indiana, following a car chase with authorities who tracked them down following a tip that came from the public. Vicky White died from an apparent self-inflicted gunshot wound, officials said.
Who won the Philippines presidential election?
Ferdinand Marcos Jr., the son and namesake of the late dictator, won the Philippines presidential election by a landslide, preliminary and unofficial results show. With more than 95% of the votes counted, Marcos Jr. has about 30 million votes, more than double that of his closest rival.
Which famous piece of art was bought for a record $195 million this week?
The House of Representatives passed a roughly $40 billion funding package this week. If it passes the Senate, what will the money be used for?
If approved, the $40 billion measure will help deliver aid to Ukraine as it continues to face Russia's brutal assault.
The national average price for a gallon of regular gasoline continued to climb higher into record territory this week. Drivers in which state are feeling the most pain at the pump?
Which country suffering an economic crisis plunged further into chaos this week after protesters burned down homes belonging to at least 38 politicians?
Angry Sri Lankans destroyed and damaged dozens of homes belonging to politicians this week. They are protesting against what they say is the government's mishandling of the country's worst economic crisis since 1948.
Which banned Twitter user did Elon Musk say he will allow back on the platform if his $44 billion deal to acquire the company is completed?
Elon Musk said that he would restore former President Donald Trump's banned Twitter account if his deal to acquire the company is completed. The comments come after Musk previously said he thinks Twitter should be more "reluctant to delete things" and "very cautious with permanent bans."
Which country's leaders announced their support for joining NATO this week?
Finland's president and prime minister announced their support for joining NATO, moving the Nordic nation — which shares an 800-mile border with Russia — one step closer to membership in the US-led military alliance.