Bad Bunny fans spotted a clue he might be playing a role in the 2022 Macy's Thanksgiving Day Parade.
Some mega-fans attended the annual balloon inflation at 72nd Street and Columbus Avenue in New York City.
They got excited when they saw one giant love heart being inflated, especially because it featured a single eye and downturned smile.
The heart looked the same as the featured artwork on the Puerto Rican artist's fourth studio album, Un Verano Sin Ti [A Summer Without You].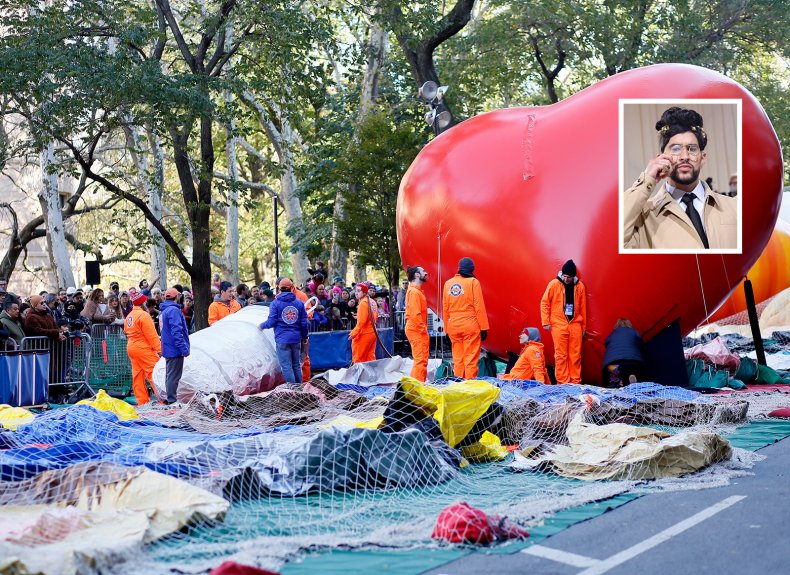 "Wow I got to witness history today when I stood at the right time as they inflated Benito's balloon for Macy's Thanksgiving Parade ❤️🇵🇷🏝️ Que locura," wrote TikToker, LiloWhereStitch alongside a video of the balloon being inflated.
Another shared a different angle of the balloon, saying "I didn't know the parade had a bad bunny balloon."
"All my Bad Bunny fans get ready to see Bad Bunny's balloon tomorrow at the 96th annual @Macy's Thanksgiving Parade!!!! I went tonight to see them get inflated so tomorrow I can sip on some hot chocolate and watch it on TV!!!" wrote TikToker, Instorewithsteph.
While Bad Bunny has not been mentioned in the official line-up of performers, floats of balloons, Macy's did confirm a new novelty balloon called, The Hottest Heart would be making its parade debut this year.
The rapper—whose given name is Benito Martínez Ocasio—performed at the 2018 Macy's Thanksgiving Day Parade, but it is not known if he will be making a surprise appearance this year.
Released in May this year, Un Verano Sin Ti became the first all Spanish-language album to be nominated for Album of the Year at the Grammys.
The album debuted at number one on the Billboard charts and is the most-streamed album on Spotify in 2022 so far.
It has become the second highest selling non-English-language album in U.S. history, behind Linda Ronstadt's Canciones de Mi Padre, according to Hits magazine.
Artist Ugly Primo designed the artwork for the album and told Billboard Bad Bunny had approached him with an idea.
"He reached out to me with the idea of the cover and how he wanted it to look," creative director and designer Adrian Hernandez (artistically known as Ugly Primo), said.
"He pretty much had it laid out for me and I helped execute that idea and turn it into an art piece. That's kinda how the cover came about—he left it open to interpretation."
The Macy's Thanksgiving Day Parade will start 15 minutes earlier than usual at 8.45am for its 96th year.
The parade will include a number of returning favorites and will kick off with a special performance by Lea Michele and the cast of Broadway's Funny Girl.
The parade takes place on the national holiday, which this year falls on Thursday, November 24, and will be broadcast on television and available to stream online.
It will air live on both NBC and CBS at 9 a.m. in all time zones and is set to finish at noon.
The parade will also stream live on many subscription services, including Peacock, Paramount+, Hulu Live, Sling TV, DirecTV Stream and YouTube TV.
Newsweek has reached out to Bad Bunny and Macy's for comment.