While the Macy's Thanksgiving Day Parade is an annual delight, a previous "tragedy" on the parade route involving Barney the Dinosaur has resurfaced online.
The incident occurred in the 1997 parade when balloon handlers lost control of a giant inflatable version of the purple dinosaur. It was caught on film and ended in spectacular fashion.
The video footage often goes viral in the build up to each annual parade through New York City. It wasn't the first time a balloon depicting a pop culture character has been damaged during the parade, but according to viewers, the incident was more harrowing than most.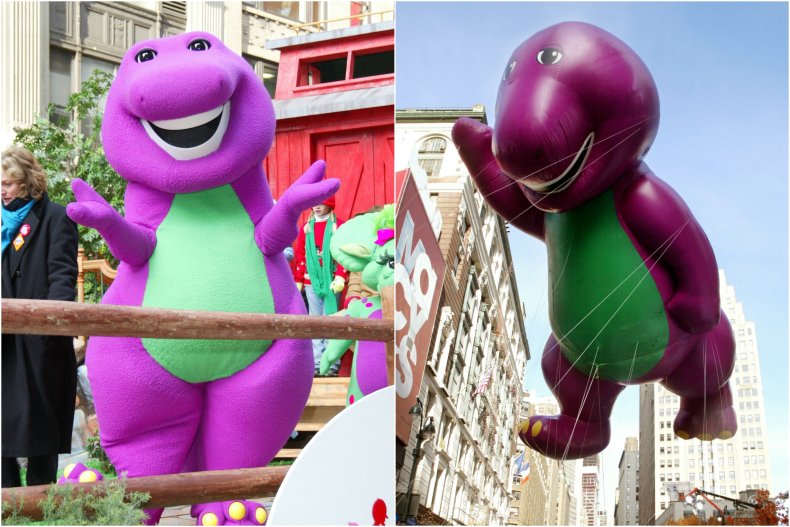 The trouble that year involving the Barney the Dinosaur balloon occurred because of harsh winds. According to the New York Times, winds reached 43 mph, sending the children's character flying all over.
During a particularly perilous moment on 51st Street, the balloon handlers struggled to maintain control, attempting to anchor themselves to the floor to control Barney. Unfortunately, he was too wild, and after slamming his side into a lamppost, eventually suffered a tear in his midriff. His torso deflated, but his head, arms, legs and tail remained intact.
The police had to remove the body, and proceeded to stab the rest of the dinosaur so that the helium could be let out.
The New York Times also reported that a number of balloons were affected by the winds that year, including The Cat in the Hat and The Pink Panther, but less seriously.
The clip of Barney waving around uncontrollably, then eventually deflating and falling to the ground often incites a huge reaction online. TikTok commentors on @Shaneredhat's video said things like "Childhood destroyed" and "I feel bad for all the little kids watching who were traumatized seeing Barney literally die."
The user who posted it on TikTok called it "The Tragedy of Barney."
One YouTube video titled "Thanksgiving '97. The day Barney was killed" has proven particularly popular. First uploaded in 2013, it has amassed 34 million views.
There are other notable examples of children's characters suffering on the parade route, as explained by TikTok user @YourBrooklynGuide. The account has shared 10 different "Macy's Thanksgiving Day Parade Fails" videos, explaining the events that lead to a parade "fail."
The author explains that in 10 incidents from over the decades the likes of Sonic the Hedgehog, Superman, M&M characters and Kermit the Frog have either burst, got out of control, or in some cases, even seriously injured people in the crowds.