Following a vote in the European Union on whether to recognize Russia as a state sponsor of terrorism, bloody images of Russian President Vladimir Putin have appeared on European lawmakers doors.
The images have begun circulating on Twitter after journalist Beata Płomecka shared the pictures.
"Such posters were pasted overnight on the doors of the offices of 54 Members of the European Parliament (MEPs) who voted yesterday against the adoption of a resolution recognizing Russia as a sponsor of terrorism," she wrote as a caption in Polish.
The image of the Russian leader shows Putin with a bloodied hand covering most of his face. The writing on the pictures says: "With my votes I support a terrorist."
Following the invasion of Ukraine by Russia in February, Moscow has faced repeated accusations of war crimes.
On Wednesday 596 of the 705 MEPs voted on whether to recognize Russia as a state sponsor of terrorism, according to website MEP Watch, which tracks the voting records of MEPs.
A total of 494 MEPs voted in favor of recognizing Russia as a state sponsor of terrorism, with 58 voting against and 44 abstaining.
A European Parliament report reflected on the vote.
"MEPs highlight that the deliberate attacks and atrocities committed by Russian forces and their proxies against civilians in Ukraine, the destruction of civilian infrastructure and other serious violations of international and humanitarian law amount to acts of terror and constitute war crimes," the report said.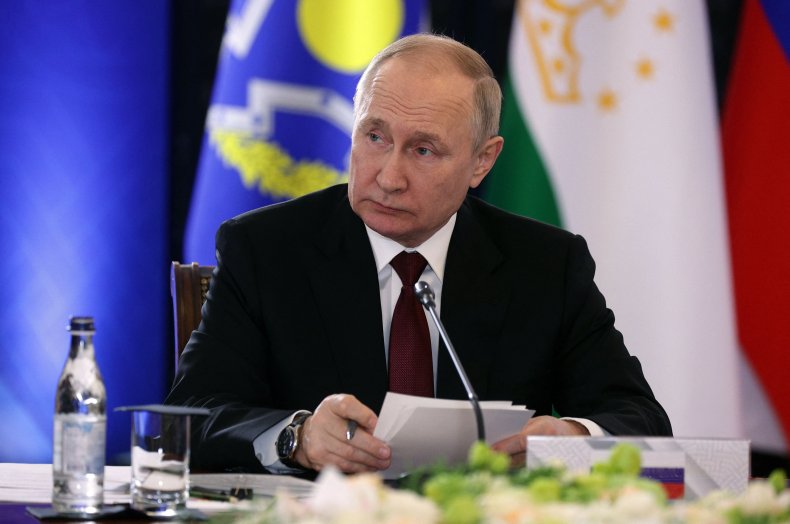 "In light of this, they recognize Russia as a state sponsor of terrorism and as a state that 'uses means of terrorism.'"
The report also highlighted what would be happening next regarding relations between Russia and the EU.
"As the EU currently cannot officially designate states as sponsors of terrorism, Parliament calls on the EU and its member states to put in place the proper legal framework and consider adding Russia to such a list.
"This would trigger a number of significant restrictive measures against Moscow and have profound restrictive implications for EU relations with Russia.
"In the meantime, MEPs call on the Council to include the Russian paramilitary organization 'the Wagner Group,' the 141st Special Motorized Regiment, also known as the 'Kadyrovites' and other Russian-funded armed groups, militias and proxies, on the EU's terrorist list."
Newsweek has contacted Russia's Ministry of Foreign Affairs for comment.
List of 58 MPs that Voted Against Recognizing Russia as State Sponsor of Terrorism.
France:
Mathilde Androuët
Jordan Bardella
Nicolas Bay
Aurélia Beigneux
Dominique Bilde
Annika Bruna
Patricia Chagnon
Marie Dauchy
Jean-Paul Garraud
Catherine Griset
Jean-François Jalkh
France Jamet
Virginie Joron
Jean-Lin Lacapelle
Gilles Lebreton
Thierry Mariani
Philippe Olivier
André Rougé
Germany:
Christine Anderson
Gunnar Beck
Özlem Demirel
Nicolaus Fest
Maximilian Krah
Joachim Kuhs
Dietmar Köster
Guido Reil
Martin Schirdewan
Joachim Schuster
Martin Sonneborn
Bernhard Zimniok
Bulgaria:
Ivo Hristov
Tsvetelina Penkova
Sergei Stanishev
Petar Vitanov
Elena Yoncheva
Italy:
Pietro Bartolo
Andrea Cozzolino
Francesca Donato
Massimiliano Smeriglio
Slovakia:
Monika Beňová
Robert Hajšel
Miroslav Radačovský
Milan Uhrík
Greece:
Emmanouil Fragkos
Lefteris Nikolaou-Alavanos
Kostas Papadakis
Czech Republic:
Hynek Blaško
Ivan David
Kateřina Konečná
Portugal:
Sandra Pereira
João Pimenta Lopes
Ireland:
Clare Daly
Mick Wallace
Netherlands:
Marcel De Graaff
Spain:
Miguel Urbán Crespo
Belgium:
Marc Botenga
Latvia:
Tatjana Ždanoka
Cyprus:
Niyazi Kizilyürek