A city in central China hosting the world's largest iPhone assembly plant will go into partial lockdown from midnight on Friday to curb rising COVID-19 case numbers.
Zhengzhou, capital and largest city of Henan province, announced the measures late on November 23, on the day China's national health authority posted a record-high 31,444 new infections. Only one virus-related death was reported in the 24-hour period, and serious and critical cases remained rare.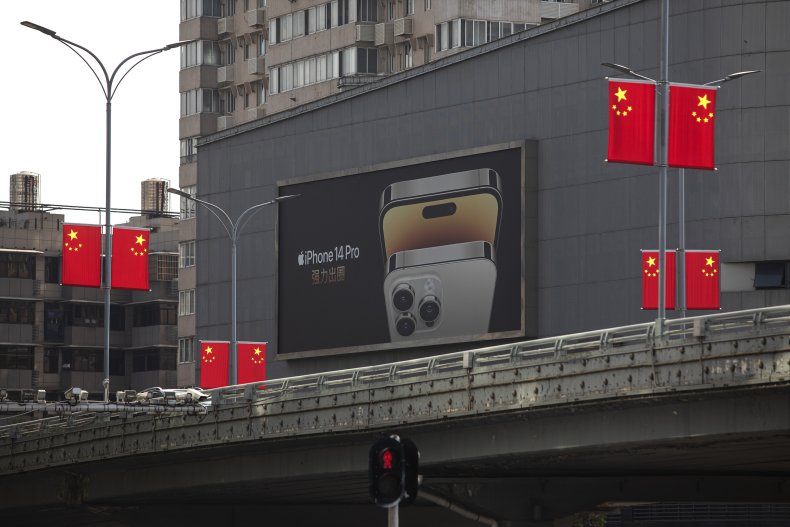 The new restrictions, collectively known as "mobility management" to avoid the negative connotations associated with a lockdown, are set to affect more than 6 million of the city's 10 million residents.
This figure includes the thousands of disgruntled workers who protested late into Wednesday night over working and living arrangements at an industrial park operated by Apple supplier Foxconn.
Health officials in Zhengzhou said Wednesday that the plan to control the latest COVID-19 surge, which has seen cases rise by triple-digits each day this week, will involve locking down eight districts until midnight on November 29.
Residents in the high-risk areas will be barred from leaving their homes and must undergo daily polymerase chain reaction (PCR) testing. Those in low- or medium-risk areas were urged not to leave their homes for non-essential purposes, read the notice, which described the coming days as a fierce battle to rid communities of the disease.
"Test all those who should be tested. No household and no person is to be left out," the announcement said.
Hundreds of millions of Chinese citizens have been living under some form of restricted movement for weeks, some for months, as regional governments implement their best interpretation of "dynamic zero COVID," President Xi Jinping's signature public health policy.
The zero-tolerance strategy was largely successful for two years during the pandemic, but major urban centers are being tested by the highly transmissible Omicron variant, while on-and-off snap lockdowns have throttled the Chinese economy.
Beijing announced a 20-point readjustment plan in November that loosened contract-tracing rules and shortened inbound quarantine days, but the overall guidance to stamp out swiftly each outbreak remains unchanged. The government fears a major COVID-19 wave could overwhelm China's understaffed healthcare system.
Companies like Taiwan-headquartered Foxconn, which manufactures 70 percent of the world's iPhones at its Zhengzhou campus, have special dispensation to continue operations in a COVID-19 bubble, with staff living and working on site inside a closed loop.
After a mismanaged COVID-19 outbreak at the assembly plant caused an exodus of staff in late October, the government stepped in to help Foxconn secure some 100,000 blue-collar workers to fill staff shortages, signing up local Communist Party cadres and military veterans last week.
However, many of these new recruits began rioting late on Tuesday. Employees complained of unpaid bonuses—among the incentives for working in the COVID-19 bubble—and were angered by apparent rumors that healthy and infected assembly-line staff were living in the same crowded dormitories.
Footage being posted and pulled down on Chinese social-media websites showed workers streaming onto the streets and clashing with hazmat suit-wearing police officers wielding riot shields and crowd-control tools. The protesters pushed over COVID-19 testing booths and tore down barriers around the factory, the images showed.
The demonstrations reportedly quieted down in the early hours of Thursday as Foxconn began offering 10,000 Chinese yuan ($1,400) to appease dissatisfied migrant workers who wished to leave "iPhone city." A Foxconn spokesperson said the company intended to replace the departing staff with more new recruits, according to Bloomberg.
In a public statement, Foxconn said a "technical error" in its payment system prevented some staff from receiving promised bonuses.
"At present, the park is continuing to actively communicate with the employees affected by the wrong information, explaining that the salaries and bonuses of all employees are paid in accordance with company policies," the statement read.
Responding to what it called "videos of unrest" on Tuesday, the company said "online speculation of employees who are COVID positive living in the dormitories of the Zhengzhou Park campus is patently untrue.
"Regarding any violence, the company will continue to communicate with employees and the government to prevent similar incidents from happening again," Foxconn added.
Earlier in November, Apple warned customers of "longer wait times" for its latest iPhone 14 and iPhone 14 Pro models, due to the COVID-19 restrictions at Foxconn. It's now under pressure to ensure adequate working conditions at its largest supplier in China.
"We are reviewing the situation and working closely with Foxconn to ensure their employees' concerns are addressed," the Cupertino, California-based tech company said in a statement to the press.
Apple began manufacturing the iPhone 14 at another Foxconn plant in India in September, but more than 80 percent of its flagship phones will be produced in Zhengzhou in 2022, according to estimates.