If for some reason you don't know what to expect from Thanksgiving in 2022, then one observant TikToker has you covered.
The social-media star's take on a traditional "white people Thanksgiving" has gone viral, after highlighting tropes like the timing, the repetitive casseroles and the common gender roles.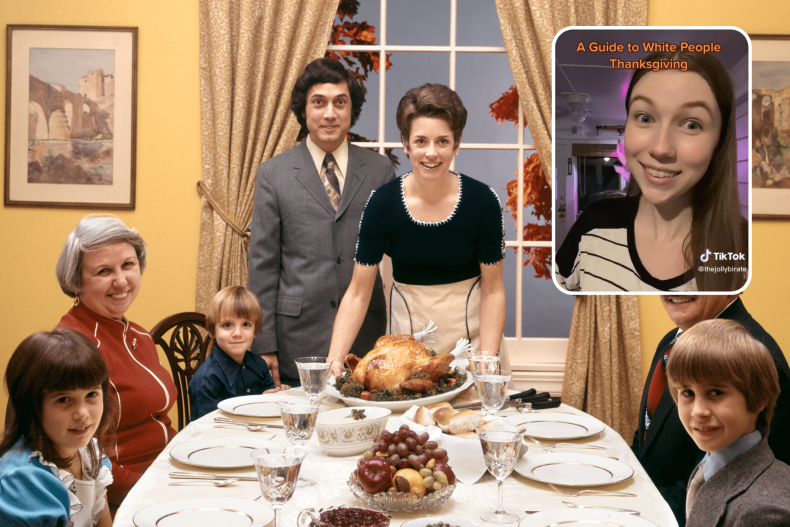 With millions of views and thousands of comments, @thejollybirate, whose screen name is Autumn, has tapped into the nation's pulse.
In a follow-up video, they acknowledged that the comment section was divided, with half the viewers calling it "so accurate," while the other half stated it was "inaccurate."
"First, be prepared to show up at about 1 o'clock in the afternoon. We really have Thanksgiving lunch," the TikToker said in their first observation.
When it comes to the Thanksgiving dishes on offer, first-timers may be even more confused.
"Do not expect a wide variety of foods, even for a large family. You'll probably just have a variation of the three same casseroles we all eat," the comedian said. "On the plus side, there will be pie, grocery store pie but still pie after the meal."
Alternatively, if pie isn't your thing, Newsweek spoke to a group of celebrity chefs who suggested their very own easy, yet impressive, Thanksgiving dessert recipes.
Families come together every Thanksgiving, but it's not always a harmonious affair. Inevitably arguments can start, which has pushed some to avoid their families altogether during the holidays. For those who are willing to brave family time, here's what they can expect.
"If you don't immediately leave [after food], be prepared to congregate with people the same gender expression as you, and if you're not on the gender binary, congrats, you're in the kid group," Autumn the TikToker said.
"Doesn't matter how old you are. You can either choose to sit with the men watching whatever sports game or sit with the women at the dining table, talking s*** about everybody else. At least the kids will be playing some video games."
Finishing their point, @thejollybirate discussed the dishes guests are expected to take, and which ones are forbidden.
"Do not and I repeat, do not bring your mac 'n' cheese. I'm sure it's delicious, but we either have one of our own family-tradition mac 'n' cheese that we will not deviate from or we have literally never heard of having mac 'n' cheese at Thanksgiving ever.
"If you really wanted to be adventurous, try bringing an appetizer dip. Ninety percent of all acceptable dips to bring to a white family Thanksgiving will start with one of these two ingredients: an entire block of cream cheese, or a cup-and-a-half of mayo. And if all else fails, bring a can of cranberry sauce. Happy Thanksgiving."
The roundup of a "white family Thanksgiving" garnered huge praise from some viewers. "The accuracy is astounding," the top comment read.
Others suggested their own Thanksgiving looks different, but one TikTok user wrote that they wish they had known this up front: "I really wish I had this information when I had my first experience, because I definitely brought rice and beans and was so awkward."
Do you have a tip on an entertainment story that Newsweek should be covering? Let us know via entertainment@newsweek.com.