Despite vowing not to return to using the social network, Donald Trump has still accumulated hundreds of thousands of new followers on Twitter since his account returned last week.
On Saturday, November 19, Twitter's new owner Elon Musk, 51, confirmed that he would allow the former president to return to his previously beloved social-media site after the SpaceX and Tesla CEO put the question about a potential reinstatement to a Twitter poll.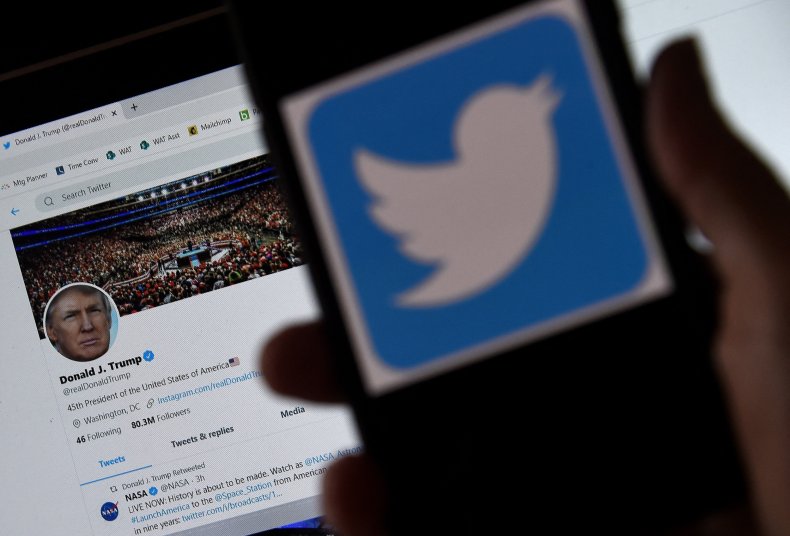 The survey received more than 15 million votes, with 51.8 percent of users saying that Trump should be allowed to have his Twitter account back.
Trump was originally permanently banned from the platform over fears he would use it to incite further violence in the wake of the January 6, 2021 insurrection at the Capitol.
"The people have spoken. Trump will be reinstated. Vox Populi, Vox Dei," Musk later tweeted, quoting the Latin phrase meaning "the voice of the people is the voice of god."
The reinstatement occurred days after Trump confirmed he would be running for the presidency again in 2024.
Almost immediately, the former president started seeing most of his original 88 million followers return to him on Twitter. It is likely that since-removed bots and other deleted accounts mean he was not able to regain his full follower number, which he had before his account was suspended in January 2021.
As of November 20, the day after Trump's account returned, the former president had 87,282,388 Twitter followers, according to SocialBlade.
Over the next few days, the Republican gained 330,353, 86,796, and 25,002 new followers respectively, as well as just over 7,818 on the morning of November 24.
In total, Trump seems to have been followed by 449,969 new accounts since his account was reinstated by Musk, totaling more than 87.7 million followers.
By comparison, President Joe Biden's official POTUS Twitter account has gained 212,562 new followers since November 20, with his @JoeBiden account gaining 22,272.
Florida Governor Ron DeSantis, seen as the main challenger for Trump for the 2024 GOP presidential nomination, gained 82,135 new followers for his @GovRonDeSantis account over the same time period, and 18,685 for his personal @RonDeSantisFL account.
Trump has hinted that he is unlikely to return to posting on Twitter, and instead will remain active on his Truth Social platform.
Speaking to a panel at the Republican Jewish Coalition's annual leadership meeting on November 19, Trump said the Truth Social app, which was developed by his Trump Media & Technology Group (TMTG) team, is going "through the roof."
He added: "It's doing phenomenally well. The press hates to talk about it, but it's doing phenomenally well. I think engagement is much better than it is with Twitter.
"But I hear we're getting a big vote to also go back on Twitter. I don't see it because I don't see any reason for it," the former president said. "They have a lot of problems at Twitter, you see what's going on. It may make it, it may not make it."
Do you have a tip on a politics story that Newsweek should be covering? Do you have a question about social media? Let us know via politics@newsweek.com.