Dwayne Johnson has surprised fans online by commenting on a video comparing his iconic single eyebrow raise with that of a cow.
The 10-second clip was shared to Twitter by Dr. Ajayita Chanana. It begins with footage of The Rock unleashing his trademark look before cutting to a close-up of a brown cow doing similar.
At the time of writing, the footage has been viewed over 4.5 million times, with Dr. Ajayita asking her followers: "Who did it better?"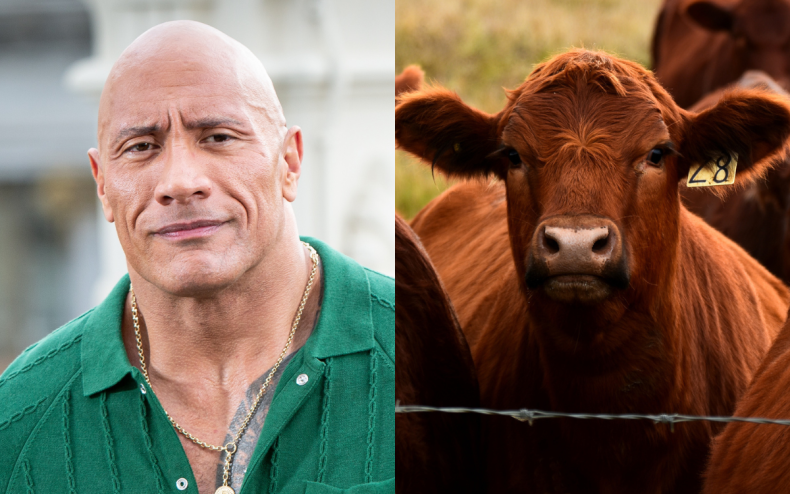 Plenty appeared eager to weigh in on the debate with the post earning over 19,000 retweets and more than 146,000 likes.
PaulaJohnsonAZ commented: "I'm a fan of the Rock but the bovine wins this one" with Saketbhoir writing: "Cow won, multi tasking chewing along with eye stare."
Rajnigandhatoo said: "In Rock's words it doesn't matter who did it better" while Ironman_dhfrdj responded: "Rock matched the Bull."
The comments were not just reserved for ordinary Twitter users though.
Evidently eager to have his say on matters, Johnson retweeted the video, writing: "Ok, I was not expecting that from my moo cow friend."
A medical professional based in Chandigarh, India, Dr. Ajayita told Newsweek she never expected Johnson to retweet her post, which is based on a video originally created by ddofinternet.
However, she was delighted when he did, describing the Black Adam star as a "great sport" for seeing the funny side in it all. "I adore The Rock and shared this video as I know he is a great human being and won't feel offended," she said."His quote tweet justified my confidence in his goodness."
But while Dr. Ajayita is a self-confessed fan, she had a surprising response when asked who did it better out of Johnson and the cow. "Hate to say it but the cow just edged it," she said.
It's unclear whether the cow was taught to imitate Johnson or single eyebrow raises come naturally to her. However, there is evidence to suggest cows are capable of being trained to perform the kind of basic tasks usually associated with cats and dogs.
Last year, a study published in Current Biology found calves were capable of being potty trained. As part of the research, 16 calves were put in a small bathroom that included a latrine-style toilet for 45 minutes.
The calves that used the toilet for peeing were rewarded with food. They were sprayed with water when they did not use the toilet.
Interestingly, 11 of the 16 calves ultimately learned to use the toilet. More fascinating still, the study, conducted by the Institute of Animal Welfare and Animal Husbandry in Germany, found they were also able to open the gate to the toilet by pushing it with their heads.
Researchers theorized that those who had failed to use the toilet would eventually learn to do so if the study had continued for an unspecified amount of time. If they can learn to use toilets, then it's not outside the realm of possibility that a cow could be taught to master the single eyebrow lift.
Newsweek has contacted Johnson's representatives for comment.