The White House slammed the actions of two Russian fighter jet pilots who forced an unmanned U.S. spy drone into the water after a collision over the Black Sea.
Speaking on the incident, which was announced by U.S. European Command (EUCOM) on Tuesday, National Security Council Strategic Communications Coordinator John Kirby confirmed that President Joe Biden had been briefed on the incident and that "it is not uncommon honor for there to be intercepts by Russian aircraft of U.S. aircraft over the Black Sea," with previous incidents having occurred even in recent weeks.
"But this one obviously is noteworthy because of how unsafe and unprofessional, indeed how reckless it was, and causing the downing of one of our aircraft," he added. "So, it's unique in that regard."
And while Kirby said he was not yet aware of exactly what the intentions of the Russian pilots were, he said, "If the message is that they want to deter us or dissuade us from flying and operating in international airspace over the Black Sea, then that message will fail, because that is not going to happen."
"We're going to continue to fly and operate in international airspace over international waters," he added. "The Black Sea belongs to no one nation, and we are going to continue to do what we need to do for our own national security interests in that part of the world."
The remarks came shortly after EUCOM published a statement revealing the incident, during which two Russian Su-27 aircraft were said to have dumped fuel on an MQ-9 Reaper unmanned aerial system operated by the U.S. Air Force and flew in front of the drone before one of the jets struck the drone's propeller, causing it U.S. forces to decide to bring the drone down into the sea.
"Our MQ-9 aircraft was conducting routine operations in international airspace when it was intercepted and hit by a Russian aircraft, resulting in a crash and complete loss of the MQ-9," General James B. Hecker, commander of U.S. Air Forces Europe and Air Forces Africa, said in the statement, which EUCOM shared with Newsweek. "In fact, this unsafe and unprofessional act by the Russians nearly caused both aircraft to crash."
"U.S. and Allied aircraft will continue to operate in international airspace and we call on the Russians to conduct themselves professionally and safely," he added.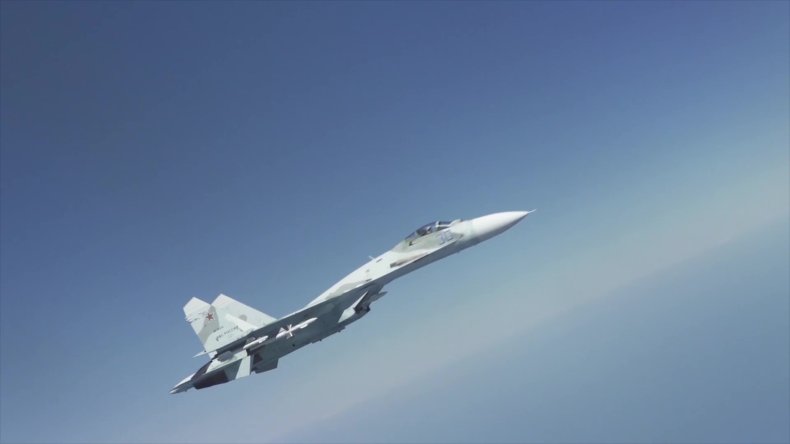 This is a developing news story. More information will be added as it becomes available.