A newly proposed Russian law could result in potential 15-year prison sentences for individuals who slander or defame participants of the so-called special military operation against Ukraine.
The State Duma, Russia's lower house of parliament, on Tuesday approved an amendment that makes citizens liable "for the dissemination of knowingly false information" about volunteer soldiers.
"All those who today [are] risking their lives, ensure the security of the country and citizens, are protected from provocations and lies," said Duma Chairman Vyacheslav Volodin on Telegram.
Previous laws in place were restricted to punishing the "discrediting" or "dissemination of falsehoods" regarding members of the military, reported German media outlet Deutsche Welle (DW), with the new amendment increasing prison sentences from three to five years, and from five to seven years, in cases of "repeated discrediting."
Volodin said the law, which must still be approved by the upper house of parliament before possibly being signed by Russian President Vladimir Putin, harkens back to the 1980s and 1990s when "officers in uniform tried not to be in public places" due to a lack of protections.
"This was done by the authorities, who did not think about their soldiers defending it and the country, carrying out tasks and orders," Volodin said.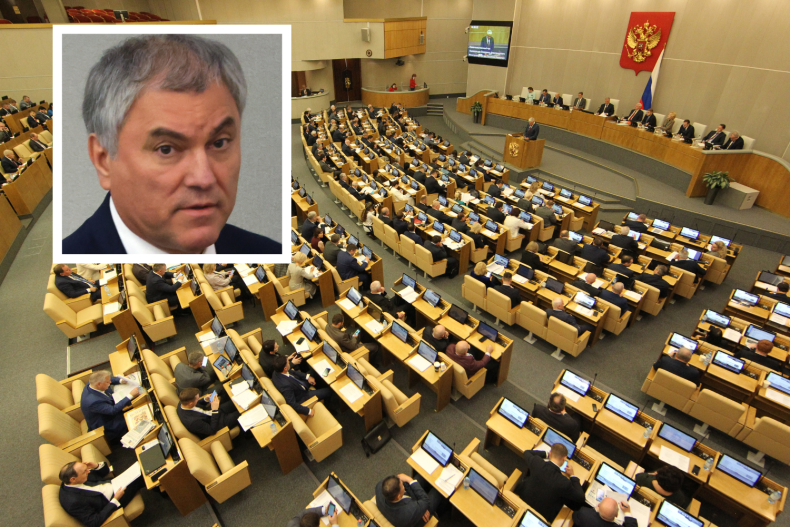 It also stems from a request made by paramilitary Wagner Group founder Yevgeny Prigozhin. In January, he asked Volodin and the Duma to make laws more stringent and punishments more extreme.
Prigozhin wrote in a letter to Volodin that media and bloggers were unfairly portraying his recruited convicts as "villains and criminals." Volodin pledged to Prigozhin that amendments could be voted on as soon as March 14.
However, a caveat in Prigozhin's letter was those harsher laws "should not extend to highest command staff of volunteer detachments, including the Wagner PMC [private military company]," and the highest command staff of the Russian Ministry of Defense "since this is necessary to ensure transparency and responsibility for the exercise of their powers."
Prigozhin and his group of mercenaries have been very active in some of the war's bloodiest battles, notably in Bakhmut. Yet they have also clashed with the Russian Armed Forces on a multitude of occasions, notably due to public appeals made through videos and social media regarding ammunition shortages.
The wealthy financier has also not been timid when it comes to denouncing the performance of some of Russia's top military officials, which has reportedly led to a rift between him and his former close ally, Putin.
As recently as last Thursday, Prigozhin took to Telegram to claim that the Kremlin cut him off from all Russian government communication channels.
"Today is the moment of truth," Volodin said upon the passage of the amendment. "You and I must think about the soldiers and officers who are in the trenches today, who will come tomorrow, about the volunteers who will go there."
"Today, every soldier and officer, regardless of whether he is in the armed formations [or] volunteers, must understand lies and slander against him will be punished, and they are protected by law," he added.
Newsweek reached out to the Duma press office for comment.