A husband has been praised online for asking his wife for an open marriage.
"Open relationships or relationships with their own nontraditional terms may be more common than you think," Susan Trombetti, celebrity matchmaker, relationship expert and CEO of ExclusiveMatchmaking.net told Newsweek.
In fact, a YouGov poll of more than 23,000 Americans in 2021 found that 25 percent of people would be interested in having an open relationship, with men (32 percent) more likely to be interested in the idea than women (19 percent).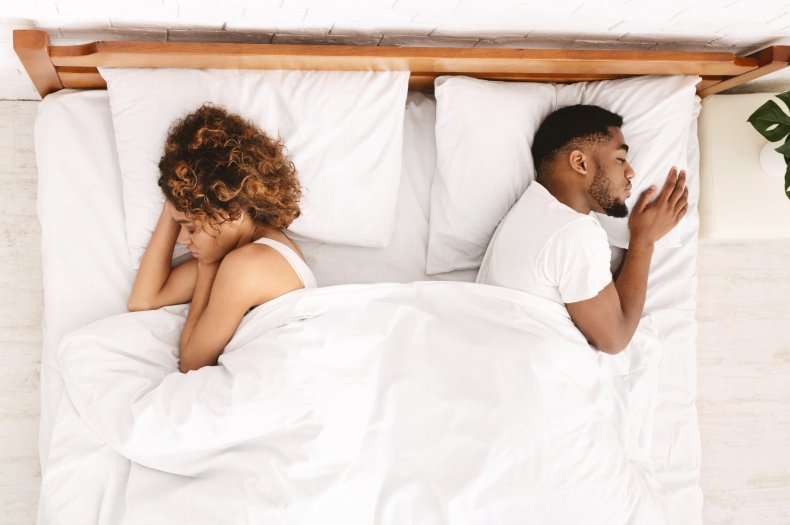 In a post on Mumsnet, the 30-year-old explained that she and her husband had been together since they were 16, and had two children aged four and 16 months.
"Since my first pregnancy, I have been struggling with a very low libido and must admit to neglecting my husband in that area," wrote the poster. "The other night he asked if we could talk and said he wasn't happy in such a low-sex marriage—we have slept together five times since the birth of our daughter four years ago."
"He said he has been getting increasingly frustrated and snappy and feels lost in our marriage. He said that he does love me but feels that our relationship is in trouble," she explained.
The woman explained that the issue was not her husband, but that she had no libido.
"He suggested counseling but I don't really like the idea of discussing our sex life with a stranger," she wrote.
So her husband came up with a different suggestion—an open marriage.
"[He] has asked me if I would consider an open marriage so that he can get his needs met, taking the pressure off me," said the wife. "He said he loves me and wants our family to stay together but that a compromise needs to be made and it's up to me whether we go for sex therapy or I carry on as I am and we have an open marriage."
Not keen on either option, the Mumsnet user explained how she was annoyed at her husband for "ruining the status quo," but understood something would need to be done and asked for advice online.
"I would recommend she tell her husband that she appreciates him coming to her, but is not open to an open relationship—but that she does want to work on this and will go to counseling as suggested," said Trombetti. "They both deserve to find solutions and I pride them on trying to make the relationship work."
On Mumsnet, replies agreed with this and shared their thoughts with the poster. One commenter said: "I personally think it's great that you've had this discussion as opposed to him just ending things or worse having an affair."
"This sounds like a really difficult situation," said another reply. "Personally I would try the therapy. That seems to come with the least downside and it's a reasonable thing for your husband to ask."
If it is what the couple wants, open relationships are far from impossible, explained Trombetti: "If both parties in the relationship are fully on board I do believe basically any 'rules' or 'terms' you set for the relationship can work. That being said, I think that an open relationship takes a lot of communication to make sure that both individuals are truly comfortable and want to continue this way."
"The status quo doesn't work so what's your preferred option?" asked another Mumsnet user. "He's very young to be living with enforced celibacy. It wouldn't work for many people, you know that."
"Wow. I think your husband sounds like a thoroughly decent man. I also couldn't be without sex—every day at least for us—and I have been with my husband for 14 years," said another commenter.
Newsweek was not able to verify the details of the case.
If you have a similar relationship dilemma, let us know via life@newsweek.com. We can ask experts for advice, and your story could be featured on Newsweek.