Colorado Rep. Lauren Boebert said the criticism she has faced in the wake of a shooting at a gay nightclub is because of anger that she won reelection.
Five people were killed and 17 others were wounded on Saturday night after a person opened fire inside Club Q—which had long been a sanctuary for the LGBTQ community in Colorado Springs.
Boebert was called out for her anti-LGBTQ rhetoric and opposition to gun safety laws after tweeting that the "victims and their families are in my prayers."
But the far-right congresswoman has hit back, alleging the criticism is because "the Left is p***** I won my election."
Boebert's opponent, Democrat Adam Frisch, conceded the race in Colorado's 3rd Congressional District last week, even though The Associated Press declared the election too close to call and said it's likely headed to a recount.
In an appearance on One America News Network on Wednesday, Boebert said family members of victims "don't even have time to grieve before the Left starts pointing the blame and trying to find a cause for this instead of actually going after the deranged shooter, the evil person who did this."
Boebert suggested that criticism directed at her was because Democrats are furious that she wasn't defeated in the 2022 midterms.
"All of this, it has to come to an end," she said on Dan Ball's Real America program.
"There's a blame game. You know, I think the Left is p***** that I won my election and so they're trying to find something to go after me about.
"You know, I expressed my concern for the family, for the victims and the way that they came after me is absolutely disgusting. And you know, we're all sick of this."
Among the critics was New York Rep. Alexandria Ocasio-Cortez, a Democrat, who told Boebert in a tweet: "You played a major role in elevating anti-LGBT+ hate rhetoric and anti-trans lies while spending your time in Congress blocking even the most common sense gun safety laws."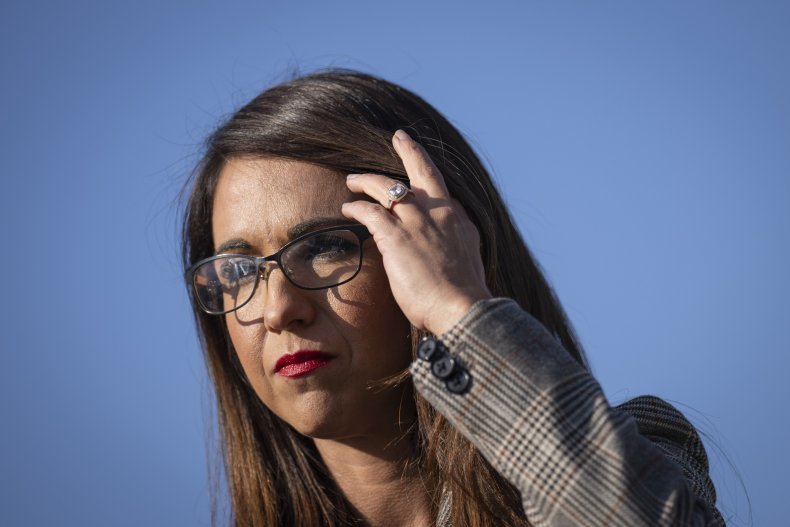 On Ball's show, Boebert said she had been "accused of just about every mass shooting" as well as a recent attack on House Speaker Nancy Pelosi's husband Paul Pelosi.
"Whether it's Uvalde or the King Soopers shooting in Boulder, Colorado or the Buffalo, New York shooting or even Paul Pelosi getting hammered, I have been blamed for all of this and it's absolutely ridiculous," she said.
"At what point are they going to start blaming the actual criminals or the lack of enforcement of the laws that they already have on the books here in Colorado? We have red flag laws. We didn't want red flag laws. They're here, they're on the books. Why was that not enforced when this evil man was called in by his own mother for a bomb threat?"
Boebert went on to question if the story would "dilute and disappear" after it emerged that the suspect in the shooting—22-year-old Anderson Lee Aldrich– identifies as non-binary and uses they/them pronouns because that "doesn't fit their their narrative anymore that this was a MAGA follower."
However, it sparked outrage among activists and others who questioned if Aldrich genuinely identifies as non-binary or whether it was a move intended to further harm the LGBTQ community.
Boebert's office has been contacted for comment.