Numerous media outlets insisted that questions about Pennsylvania Sen. John Fetterman's health concerns after his stroke were much ado about nothing in the run-up to the 2022 midterm election, when he won of the country's most fiercely contested Senate races.
Now, since he's been hospitalized for weeks with depression, the tone of the media has been laudatory about his transparency and then mostly silent as questions emerge about how he's running his office while recovering from serious health issues.
"Mental illness should not be covered any differently than any other illness," Dr. Marc Siegel told Fox News Digital. "Having said that, the people of Pennsylvania are owed a senator... we certainly deserve more transparency here."
"It's all political positioning rather than health concern or ability to function," Siegel added about the media's incuriosity.
MYSTERY SWIRLS AS FETTERMAN CO-SPONSORS LEGISLATION WHILE HOSPITALIZED FOR DEPRESSION: 'VERY UNUSUAL'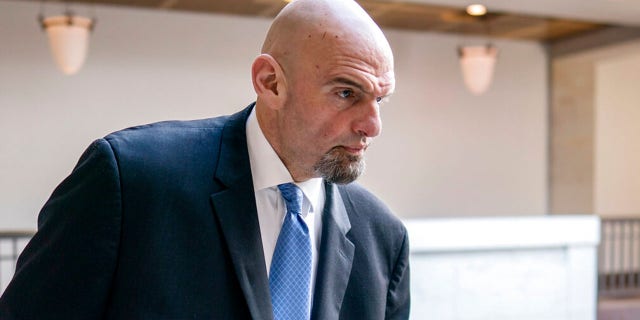 Sen. John Fetterman, D-Pa., leaves an intelligence briefing on the unknown aerial objects the U.S. military shot down this weekend at the Capitol in Washington, Feb. 14, 2023. (AP Photo/J. Scott Applewhite, File)
Fetterman's health was under scrutiny after he suffered a stroke while campaigning for the Pennsylvania seat. But skepticism that Fetterman would be able to handle the rigors of office largely came from the right as Democrats' allies in the mainstream media defended him at all costs and criticized Republicans like Mehmet Oz's Senate campaign who took shots at Fetterman's fitness. Fetterman went on to victory in a huge Democratic pickup and took office in January.
Fetterman was already struggling to adjust to Senate life when he was hospitalized in February for clinical depression. Prior to that, Fetterman battled for weeks to adjust to his role as senator, relying on technological aids to help him communicate with colleagues and his own staff. He had a separate hospital stay after feeling lightheaded at a retreat for high-powered Democrats.
Prior to Election Day, NBC reporter Dasha Burns was vilified by the left for even suggesting Fetterman had a "difficult" time understanding their small talk prior to an interview.
DEMOCRAT SEN. FETTERMAN'S OFFICE RELEASES UPDATE AFTER HE CHECKS HIMSELF INTO HOSPITAL FOR CLINICAL DEPRESSION
Burns' own colleague, NBC's Savannah Guthrie, pushed back on her and insisted other journalists claimed Fetterman was just fine. Vox's Kara Swisher was among the angry Fetterman defenders online and claimed she spoke with him for "over an hour" without any help from aides. Swisher called Burn's report "nonsense" and suggested the NBC reporter was "just bad at small talk."
Liberal podcast host Molly Jong-Fast said Fetterman "understood everything I was saying, and he was funny," while MSNBC host Stephanie Ruhle tweeted that there were "absolutely no issues" when she spoke with him.
ABC News' FiveThirtyEight published a piece that declared Fetterman's critics were biased against people with disabilities, while MSNBC published an opinion piece headlined, "Why Fetterman's Senate campaign is a teaching moment greater than this election," that put a spotlight on "blatant ableism." The Washington Post also rushed to Fetterman's defense last year with a report headlined, "Fetterman's use of captions is common in stroke recovery, experts say." It featured voices speculating Fetterman had aphasia, an auditory processing disorder, while admitting he'd released "very little information about his health."
Fetterman's cheerleaders in the media haven't backpedaled since he was checked into the hospital last month. NewsBusters conservative managing editor Curtis Houck, who has been open on social media about his own mental health struggles, believes the press is only covering part of the story.
"The media are wholly capable of doing two things at once in putting the spotlight on mental health and how the stresses of work and campaigning can wear someone down. At the same time, Fetterman's a senator for a key state that's still one of the largest in the country by population and elected in perhaps the most-covered race from the midterms," Houck told Fox News Digital, pointing to a March 9 New York Times story headlined "Cloistered at Walter Reed, Fetterman Runs His Senate Operation From Afar," as an example of botched coverage.
"The New York Times was correct to state that much of the work in a congressperson's office is done by staff, down to press releases, tweets, and writing legislation. But to imply it's really no big deal that a senator can be absent for an indefinite period of time and all that's needed is a staff to run a Senate seat is insulting to both constituents and the institution," Houck continued. "Committee hearings, community appearances, press conferences, and votes are just a few of the areas that require a sitting representative's presence in a way an unknown staffer can never fill."
The Times report liberally quoted Fetterman's chief of staff Adam Jentleson, a longtime Democratic operative who has been sharply critical of voices who questioned Fetterman's fitness and blocked some conservative critics wondering how he is running his office from a hospital. The Times reported, "It is not unusual for lawmakers to be told by members of their staff, sometimes after the fact, what bills they are co-sponsoring," although it noted there are drawbacks to not being physically at the Capitol. For instance, he cannot vote on bills.
When the news was first reported, Fetterman was widely praised for undergoing treatment while very little was said about his ability to serve. Many celebrated the progress Americans have made since Thomas Eagleton was kicked off Democratic nominee George McGovern's ticket in 1972 when it was revealed he suffered from depression.
Talking heads on CNN and MSNBC suggested aides were "surprised" the senator was depressed but there is a "sense of relief" the issue was being addressed. "Morning Joe" regular John Heilemann said that in hindsight, Fetterman's health issues ended up being an advantage in the U.S Senate race.
"They made it a humanizing element that connected him to the electorate in Pennsylvania, and it kind of enhanced the view the people have of Fetterman. He is an ordinary guy," Heilemann said.
MSNBC'S Alicia Menendez compared Fetterman to Abraham Lincoln because he also struggled with metal health issues, while CNN's Abby Phillip called his treatment an "act of courage."
CNN's Michael Smerconish, who was one of the few mainstream pundits to question Fetterman's fitness ahead of the midterms, put on rose-colored glasses and suggested he could emerge as a "mental health role model" to Americans.
"Perhaps he can become the face of a mental health epidemic," Smerconish said. "We can all benefit, so thank you, John Fetterman."
NBC REPORTER GETTING 'BULLIED' BY MEDIA FOR FETTERMAN REPORT WAS 'PATHETIC,' 'WRONG,' SAY INSIDERS
Once the calendar turned to March, most Fetterman coverage centered around photos his staff tweeted out of his recovery and criticism of Republicans who questioned if he's fit to serve.
From the day Fetterman began treatment for depression on Feb. 16 through March 16, nobody on CNN or MSNBC has questioned if he remains capable of serving the people of Pennsylvania, according to a search of transcripts. Morning and evening newscasts on NBC, CBS and ABC have not sought answers, either.
"As someone who's struggled with their mental health over the years, the question should be asked as to how the senator got into this position. It's not pointing fingers at any one individual, but a collective effort of where things broke down by his team and a press that, aside from NBC's Dasha Burns, breathlessly worked to get him in office," Houck said.
"For any member of Congress, there are layers and layers of people around you and, in a statewide campaign with a following like Fetterman's, that was the case on a massive scale and considering his slow cognitive recovery from a stroke," Houck added. "The conversation should have been that it was sad he ended up where he did and that he was arguably taken advantage of by people who should put his health first. Earth to The [New York] Times: His absence isn't something that should be dismissed as something from ill-willed 'detractors.'"
Houck noted that the story of Fetterman's health was initially reported "as if it came out of nowhere," other than to mention he'd been reeling from a stroke and that everyone wished him well.
"In reality, the signs were there and, if even cursory observers of the media were honest, we would recognize someone facing a highly stressful campaign for perhaps the top race of a nationwide election cycle is already taxing enough, but it was even more cruel having gone through it while battling the effects of a stroke," Houck said.
CRITICS SAY NBC'S DASHA BURNS IS OWED AN APOLOGY AFTER FETTERMAN'S DEBATE PERFORMANCE: 'SHOULD BE ASHAMED'
DePauw University journalism professor Jeffrey McCall believes the news media has a "tricky challenge" in the handling of the Fetterman situation.
"Reporters normally should not be rummaging around in the personal health matters of newsmakers, who still deserve some degree of privacy with regards to their health. The Fetterman situation, however, does deserve some journalistic scrutiny because it is legitimate to question whether he can effectively do the job to which he was elected," McCall told Fox News Digital.
"This is not like reporting about a senator who has the flu or a broken ankle who could conceivably continue to function minimally while undergoing treatment and presumably would in due time be back at full capacity. It is reasonable to ask if Senator Fetterman can ever resume his duties, and if so, at what magnitude. It is not mean-spirited, unprofessional or intrusive to raise this issue," he continued. "Fetterman was largely protected by the media during the campaign last fall, but it will be irresponsible if the news media thinks it should continue to protect Fetterman from questions about his health and fitness for duty over the six years of a senate term."
Fox News' Houston Keene and Alexander Hall contributed to this report.
CLICK HERE TO GET THE FOX NEWS APP
Brian Flood is a media reporter for Fox News Digital. Story tips can be sent to brian.flood@fox.com and on Twitter: @briansflood.