There'll be some eye-catching debutantes floating through the streets of New York City for the 2022 Macy's Thanksgiving Day Parade.
Every year, dozens of floats and balloons march around the streets of NYC. Some new additions have already been announced, while fans are anticipating a few surprises along the parade route, too.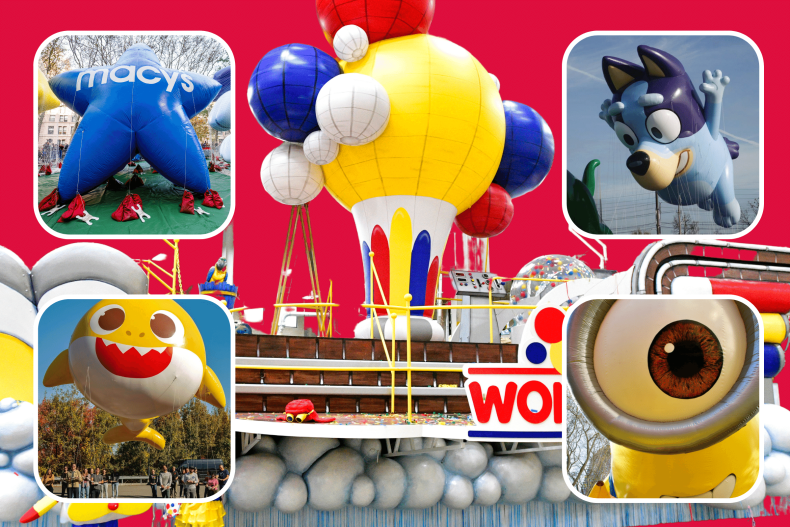 The 2022 parade officially gets underway at 9 a.m. ET from West 77th Street and Central Park West. Floats, balloons, balloon-handlers and performers will march for three hours before the parade wraps up at midday ET on 34th Street in front of Macy's Herald Square.
The parade, in its 96th year, will include 28 floats, 16 character balloons, 12 marching bands, 10 performance groups and much more.
Here is a summary of what's new at the 2022 Macy's Thanksgiving Day Parade.
New Balloons
In 2022, balloons inspired by a number of children's characters will make their debut along the parade route.
The updates include a Minion inflatable from Despicable Me; a Baby Shark balloon; a new dinosaur, the Apatosaurus; a new Diary of a Wimpy Kid inflatable; and a new balloon from the kids' TV hit Bluey.
There are reports that some New Yorkers believe they have seen a Bad Bunny-inspired balloon being inflated in Central Park. Newsweek have contacted Macy's for confirmation about the launch of an inflatable based on the Puerto Rican rapper.
New Floats
Wonder Bread is debuting a float for the first time as the company celebrates its 101st anniversary. The vehicle has been dubbed the "Wondership," with country singer Cam performing while aboard.
"I think it's special because we are pushing our boundaries," Jordan Dabby, vice president of partnership marketing at Macy's, told Newsweek. "With this float, we're doing things that we've never done before.... It's a fun, whimsical visual."
Ashley Smith, brand manager for Wonder Bread, told Newsweek that the float will include familiar touches, like the kitchen staple's famous colors represented with bright balloons and confetti.
"Outside of the direct branding, we really wanted to reflect back on the foundation that was built on, which, of course, is inspiring joy," Smith said. "White bread is not colorful, but Wonder is. Everyone knows those colors—red, yellow and blue—are just iconic."
Other new additions include a "Supersized Slumber" float from Netflix, which promotes their new movie Slumberland starring Jason Momoa. Toys "R" Us will also have a new float, and the Macy's legacy tree float will honor the Wampanoag Tribe.
New Balloonicle
Just in time for the 2022 FIFA World Cup, Fox Sports is showing its support for the American soccer players with a balloon-float hybrid that depicts "Striker, the US Soccer Star."
The debut of this balloonicle comes one day before the U.S. men's national team face England in the group stages of the 2022 FIFA World Cup in Qatar.
Macy's Thanksgiving Day Parade airs live on NBC and streams on Peacock on Thursday, 9 a.m. to noon in all time zones.