Prince Harry throwing his confetti with gusto at King Charles III during his wedding to Queen Camilla has resurfaced in a viral TikTok video.
The Duke of Sussex appeared to put his back into it when lobbing a handful of confetti during his father's second wedding.
Footage of the moment at their Windsor wedding, on April 9, 2005, was watched 2.9 million times and received over 582,000 likes on TikTok.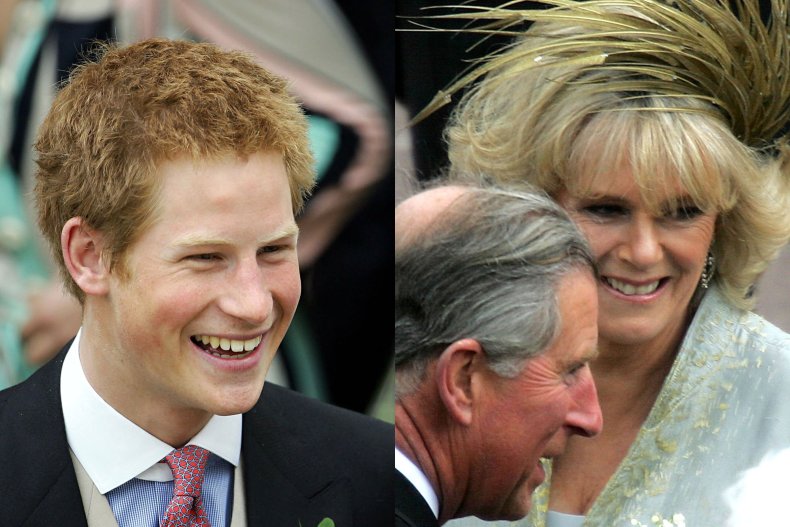 However, the poster added an extra layer of interpretation by overlaying dialogue from Season 4 of Netflix series The Crown of a fictionalized argument between Charles and Princess Diana about Camilla.
The confetti appears to land predominantly on Charles and it is entirely possible Harry was simply playing a light-hearted prank on his father, but that did not stop social media users from speculating about the prince's feelings in the moment.
One comment liked 32,800 times read: "That felt personal lol."
Another, liked 16,800 times, read: "Actions definitely spoke louder here."
Another thought that "Harry threw that with vengeance," while a fourth wrote: "He summoned his inner Diana."
The video has Amy Winehouse playing over the top and features audio from an argument between Emma Corrin's Princess Diana and Josh O'Connor's Prince Charles in Season 4 of The Crown.
The fictional scene shows Charles saying he hugs "who I love, particularly when they are affected by the selfishness of others and need cheering up."
Diana is then depicted saying: "Who are you referring to?" Charles replies "Camilla," before Diana says: "Why would I care about her?"
O'Connor's Charles then says: "Because I care about her. Morning noon and night I care about her. And you hurt her. And if you hurt her, you hurt me."
Charles and Camilla's 2005 wedding came eight years after Princess Diana died and two years before an inquest into the royal's death in London.
The public mood at the time was so explosive that the palace feared some supporters of Diana would protest the wedding, though the fears were mostly unfounded.
Penny Junor, the Queen Consort's biographer, told Newsweek in 2020: "Camilla had to be prised out of bed that morning. She was absolutely terrified because nobody knew what was going to happen.
"They didn't know whether they were going to have rotten eggs thrown at them or whether it was going to be a complete non-event.
"They just did not know. It turned out that the bulk of that crowd were well-wishers and it was a lovely atmosphere that day."
Charles and Camilla had problems during the organizing because they were denied a church wedding on the basis Camilla was not only divorced but had a living ex-husband.
Church of England rules had recently been updated to allow the Archbishop of Canterbury to permit divorcees with living former spouses to marry in church at his discretion, but Rowan Williams refused.
As a result, they married at Windsor Guildhall, but Queen Elizabeth II declined to attend the legal ceremony because she only goes to church weddings.
Instead, she joined them for a blessing at St George's Chapel, Windsor Castle, conducted by the archbishop.
Do you have a question about King Charles III, William and Kate, Meghan and Harry or their family that you would like our experienced royal correspondents to answer? Email royals@newsweek.com. We'd love to hear from you.