A resurfaced video of Prince William being ticked off by Queen Elizabeth II on the balcony of Buckingham Palace while Prince Harry stands nearby joking around has gone viral after being shared on the social media platform TikTok.
The video of Harry and William during the Trooping the Colour celebrations in 2016 shows the queen gently reprimanding the elder brother. It has been viewed over two million times in 24 hours since being posted.
Captioned "Harry's messing around too, but William's the one who get's in trouble!" the poster added: "Sometimes being the 'spare' isn't so bad when big brother, William, gets snapped at by the Queen."
This is a reference to Harry's highly anticipated upcoming memoir titled Spare, which will be published worldwide on January 10. The title references the quote "heir and a spare" which is often applied to future monarch's and their younger siblings.
The video footage in the clip was captured on June 11, 2016 during the annual Trooping the Colour flypast at Buckingham Palace. The year was of particular note as it marked queen's 90th birthday.
According to tradition, all senior members of the royal family attended the Trooping events including William, Kate Middleton and their children Prince George and Princess Charlotte, as well as Harry, Prince Charles (now King Charles III) and the Duchess of Cornwall (now Queen Camilla).
In the light-hearted clip, Harry jokes with his father who is off screen as William joins in while crouching down to explain what was happening to young George. The queen is shown intervening, tapping William on the shoulder and telling him to stand up as the flypast was about to start.
A number of TikTok users have praised the video, pointing out that Harry appeared to evade a royal ticking off from his grandmother.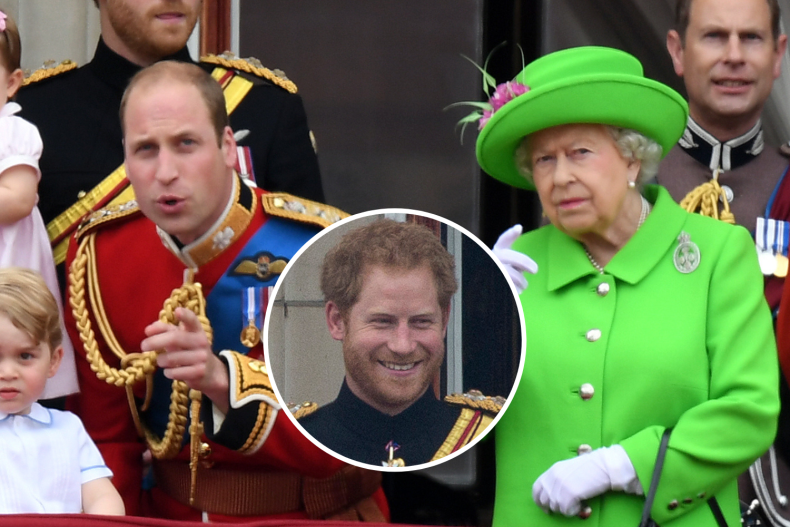 "Granny always had her eye on the heir to the throne… The spare could get away with much more," one wrote.
"Harry has more experience, so he knows how not to get caught," posted another, with a further user adding, "Even as adults grandma still runs the show."
The annual Trooping the Colour parade takes place each June, the most recent having formed part of the queen's Platinum Jubilee celebrations this year.
Though the queen was unable to take part in the last parade owing to her increased frailty, she made a special balcony appearance with working members of the royal family. This did not include Harry and his wife, Meghan Markle, who stepped down as working royals in 2020. The couple were, however, present for the major jubilee events.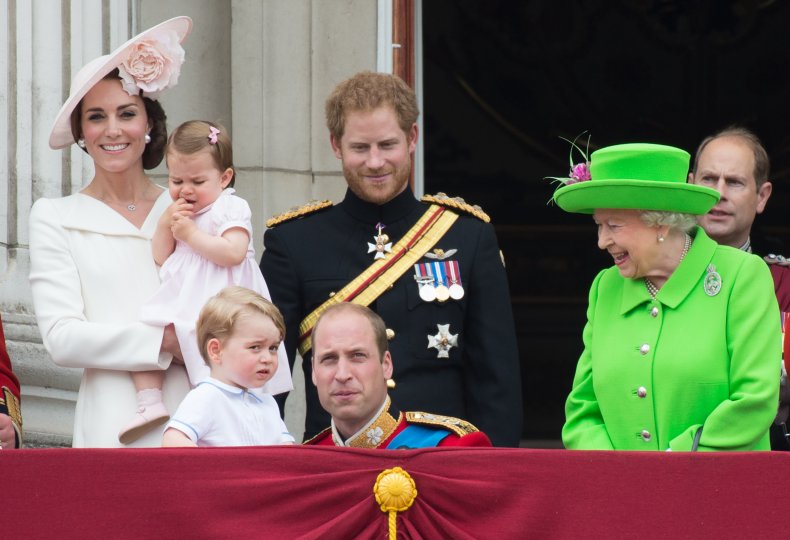 Both William and Harry are known to have been very close to their grandmother, increasingly so following the death of their mother Princess Diana in 1997.
Following the monarch's death in September at the age of 96, both princes paid their own dedicated tributes to their grandmother.
"Granny, while this final parting brings us great sadness, I am forever grateful for all of our first meetings — from my earliest childhood memories with you, to meeting you for the first time as my commander in chief, to the first moment you met my darling wife and hugged your beloved great-grandchildren," wrote Harry.
"I cherish these times shared with you, and the many other special moments in between. You are already sorely missed, not just by us, but by the world over."
William too gave thanks for his grandmother's presence in his family's life, saying: "My wife has had 20 years of her guidance and support. My three kids have got to spend holidays with her and create memories that will last their whole lives.
"She was by my side at my happiest moments, and she was by my side during the saddest days of my life.
"I knew this day would come, but it will be some time before the reality of life without Grannie will truly feel real."
Next year the new king, Charles, will attend his first Trooping the Colour parade as sovereign. This will be soon after his coronation, which is planned to take place on May 6, 2023 at Westminster Abbey.
Do you have a question about King Charles III, William and Kate, Meghan and Harry or their family that you would like our experienced royal correspondents to answer? Email royals@newsweek.com. We'd love to hear from you.