FIRST ON FOX: Sen. Josh Hawley, R-Mo., confronted a local NBC affiliate journalist over fiery tweets aimed at supporters of Twitter owner Elon Musk.
Video obtained by Fox News Digital showed Hawley sitting down for a remote taped interview with Mark Maxwell, the political editor for St. Louis' KSDK News.
But before Maxwell was able to ask his questions, the senator pressed his own.
"Why all the hate for people who like free speech on Twitter? What's going on with that?" Hawley asked.
"I don't understand your reference," Maxwell responded. "What are you referring to?"
Hawley cited a March 6 tweet from Maxwell that read, "Does anyone still think Elon buying this site and firing all the experts was a good idea? It's been awhile since I've seen any of his bootlickers brag on how efficient the site is now that Sir Galaxy Brain is in charge."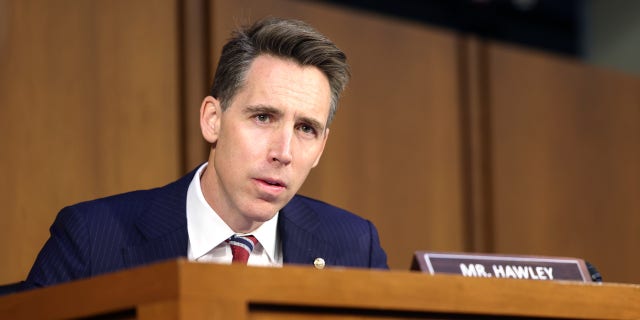 U.S. Senator Josh Hawley, R-Mo., asks questions at a committee hearing on data security at Twitter. (Kevin Dietsch/Getty Images)
JOSH HAWLEY UNVEILS BILL TO STOP CHINESE CORPORATIONS, CCP-LINKED ENTITIES FROM BUYING US FARMLAND
"It seems kind of vitriolic," Hawley reacted after reading Maxwell's tweet aloud.
"Yeah, I suppose it was," Maxwell acknowledged. "It was a moment of frustration when the site went down and there were a lot of folks in my mentions who had quite a cultish adoration for him."
"But 'bootlickers'?" Hawley pressed.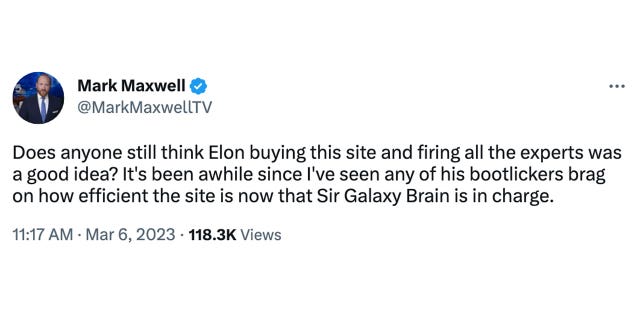 KSDK News political editor Mark Maxwell slammed supporters of Twitter owner Elon Musk as "bootlickers." (Screenshot/Twitter)
FEDERAL TRADE COMMISSION DEMANDS ELON MUSK 'IDENTIFY ALL JOURNALISTS' WHO HAD ACCESS TO TWITTER FILES
"Yeah," Maxwell doubled down, "Going to bat for him, defending him at every turn even when he was banning journalists from the site for no apparent reason. Yeah, I felt like the industry and journalism, a part of the First Amendment, has come under specific attack at times from Mr. Musk."
The Republican lawmaker pointed to a second tweet from Maxwell after one of his critics sarcastically replied to the reporter's Musk tweet, saying, "You seem fair, balanced and sober."
Maxwell replied, "I never said I was sober."
"I hope you do our interview sober!" Hawley exclaimed. "I hope you're sober now!"
"I try to, I try to," Maxwell quipped.
Hawley then cited a third tweet from Maxwell after he was told he had "angered the minions" with his first tweet, writing, "Never interrupt a worshipper during their daily prayers to Lord Elon."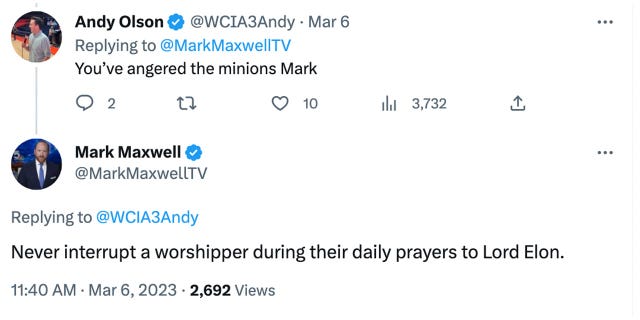 KSDK News' Mark Maxwell said it was "satire" when he made the tweet mocking those who worship "Lord Elon." (Screenshot/Twitter)
ELON MUSK TORCHES HOUSE JAN. 6 COMMITTEE FOR 'MISLEADING THE PUBLIC,' WITHHOLDING EVIDENCE: 'DEEPLY WRONG'
"That's quite a rant," Hawley said.
"I refer to it as satire," Maxwell responded. "Protected under the First Amendment, is it not?"
"Oh, well I don't think you should go to jail for it. I'll admit that," Hawley said. "I think we can all agree on that but I don't know, I mean, referring to people you don't like as 'bootlickers.' I mean, you don't do opinion journalism, do you?"
Maxwell clarified that he wouldn't refer to his tweets as an "act of journalism," which Hawley pushed back on since Maxwell uses his Twitter profile to promote his work.
"When journalists or so-called journalists refer to people they don't like as 'bootlickers' on a public platform, when they attack folks and then say they don't necessarily do stuff sober, it does tend to get my attention," Hawley said. "I mean, we give you a lot of access. I just want to make sure that you're actually sober and taking this seriously, Good Lord in Heaven."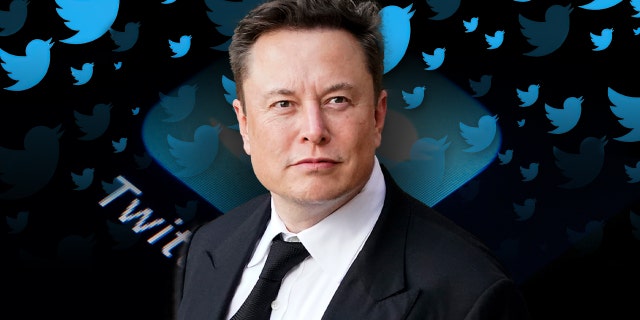 KSDK News political editor Mark Maxwell knocked Elon Musk's Twitter fans as "bootlickers." (Getty Images)
CLICK HERE TO GET THE FOX NEWS APP
"I'm happy to do a blood alcohol test," Maxwell jokingly suggested, adding, "I have had no alcohol this morning and that was a joke. I just want to clarify. We'll save the festivities for this weekend when the St. Patrick's Day festivities take off, but that will be off the clock."
"Okay… well, log off Twitter," Hawley quipped.
Neither Maxwell nor KSDK News immediately responded to Fox News' requests for comment.
Joseph A. Wulfsohn is a media reporter for Fox News Digital. Story tips can be sent to joseph.wulfsohn@fox.com and on Twitter: @JosephWulfsohn.