Former President Donald Trump's legal troubles add up to a "really bad 24 hours" for the ex-president, according to legal analyst Glenn Kirschner.
The former federal prosecutor said that Trump was "in trouble" during the latest episode of his Justice Matters podcast on Friday. Kirschner said that "the first step of accountability" for Trump was "just around the corner" after recapping three news stories on recent developments in the ongoing criminal investigations of the former president by Manhattan District Attorney Alvin Bragg and Special Counsel Jack Smith.
Trump is facing multiple criminal and civil investigations, both at the state and federal level. Potential prosecutions could have a significant impact on his hopes for returning to the White House, with the former president having declared his intention to seek the 2024 GOP presidential nomination in November.
Kirschner pointed out an NBC News article, based on anonymous sources, that claims security is being put in place to prepare for Trump being indicted in New York as early as next week. He then referenced a Daily Beast article on Trump attorney Joe Tacopina announcing that the former president would voluntarily turn himself in if the New York indictment happens.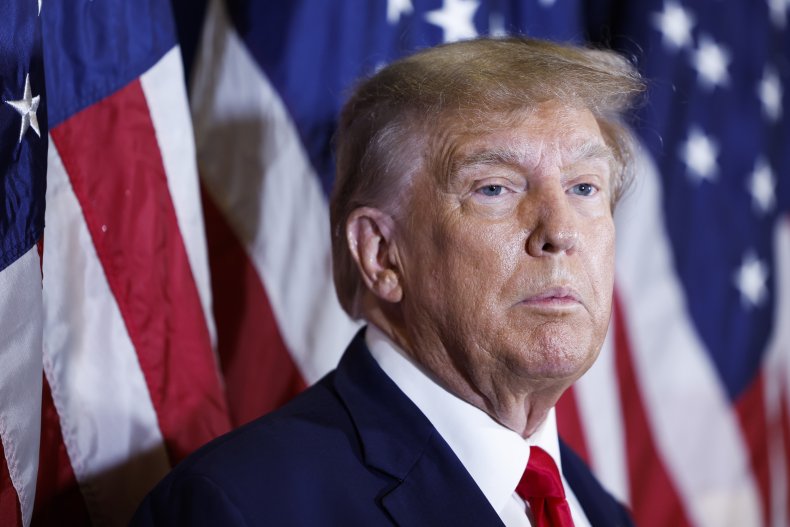 Kirschner said that the apparent decision to voluntarily surrender in the event of an indictment was likely due to Trump's desire to avoid being subjected to a "perp walk," which could involve him being handcuffed and photographed by the press. Regardless, Kirschner said that the former president would be unable to avoid the indignity of a mug shot.
"It seems like the only reason Donald Trump is doing that is because he wants to avoid photographs of him in handcuffs being perp walked," said Kirschner. "It could be very satisfying to see him in cuffs, but I'm not a fan of the perp walk. I frankly think we should be above that."
"He will still be booked," he added. "So he can avoid the perp walk ... but there will be mug shots taken of Donald Trump, and I have a feeling those will be released fairly promptly."
Kirschner went on to say that the "more substantive" of the three developments on Friday involved reports that U.S. District Court Judge Beryl Howell had ordered Trump lawyer M. Evan Corcoran to testify before the federal grand jury looking into the former president's alleged mishandling of classified documents.
Corcoran had previously testified before the grand jury but refused to answer some questions, citing attorney-client privilege. Howell found that Corcoran meets the threshold for a "crime-fraud exception," which sets aside attorney-client privilege when a lawyer may have been involved in a crime.
Kirschner agreed with a CNN report describing the ruling as "monumental," with the legal analyst pointing out that attorneys are very rarely asked to testify "about the crimes of the client."
Kirschner said that Corcoran, who certified to the Department of Justice that Trump was not in possession of any classified documents before more than 100 were seized by the FBI at Mar-a-Lago last year, would be forced to face prosecution himself or became a "valuable witness" against Trump.
"Evan Corcoran has no way to turn where he doesn't end up either being prosecuted if he committed crimes," said Kirschner. "Or being a valuable witness who incriminates his former client, Donald Trump."
"Why do I say 'former client?' Because Evan Corcoran, of necessity, has to quit team Trump ... He is now conflicted, he has dual loyalties ... He now has to protect himself."
Kirschner concluded by admitting that he was "kind of reading tea leaves," while contending that "the tea leaves are painting a pretty vivid picture" that Trump was "in trouble."
Trump has denied any wrongdoing in his multitude of ongoing criminal and civil investigations, frequently referring to the probes as part of a "political witch hunt."
A Trump spokesperson said in a statement to Newsweek that the order for Corcoran to testify signals that the "underlying case is very weak," while vowing that the former president would "fight the Department of Justice on this front and all others."
"Whenever prosecutors target the attorneys, that's usually a good indication their underlying case is very weak," the spokesperson said. "If they had a real case, they wouldn't need to play corrupt games with the Constitution. Every American has the right to consult with counsel and have candid discussions—this promotes adherence to the law."
"We will fight the Department of Justice on this front and all others that jeopardize fundamental American rights and values. Interfering with Americans' right to an attorney is a serious and weighty matter," they added. "For a judge to do so in violation of due process, without allowing for any real hearing, and within a few hours of her expiration date—as chief judge supervising the grand jury—is unAmerican and unacceptable."