A video of a woman launching racist abuse at an Uber driver has gone viral on Twitter and sparked calls for Uber to identify the perpetrator.
The video, which was posted on Twitter on Wednesday by the Washingtonian Problems page, has so far been viewed more than 3.6 million times.
The Twitter page captioned the video: "Trigger Warning: Seen in Cathedral Heights, DC this morning.
"Apparently this man was her Uber driver and is seen getting verbally and physically assaulted by this woman. She repeatedly hurls racist slurs towards him."
Newsweek has not been able to independently verify when and where the altercation took place.
The video, which was filmed by a witness from a window in a building overlooking where the altercation was taking place, shows a man and woman arguing next to a car.
The pair can be heard shouting at one another, with the woman saying: "I employ you, I am your boss. I am your f****** boss."
The man repeatedly tells the woman to step back away from his face.
The woman continues: "Your a little piece of s***, n*****.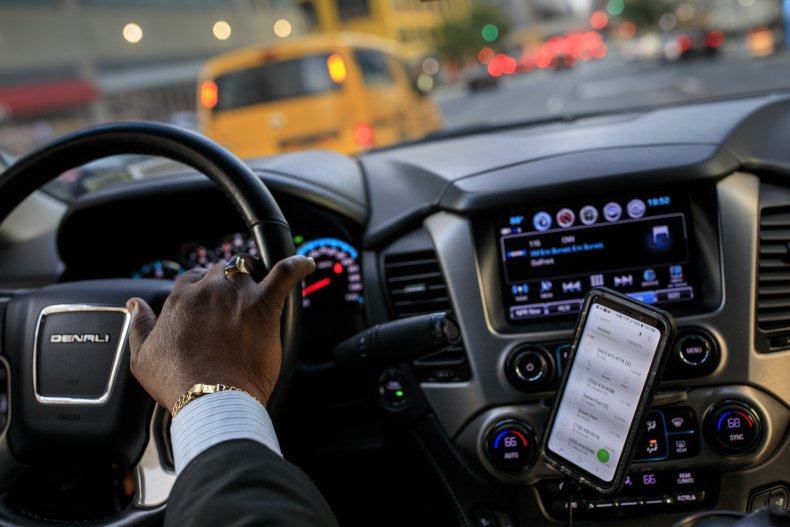 She then repeatedly calls the driver the n-word, while also calling him a slave.
She added: "Slave, I asked for a phone charger, you little f****** ignorant n****, you illiterate n*****."
The Uber driver repeatedly tells the woman bye as the woman begins to walk off.
In the footage, she is seen turning around to yell that her phone is about to die and to hurl more racist abuse before attempting to strike him.
Multiple social media commenters expressed their disgust at the woman's comments and called for Uber or the internet to identify her.
According to a Mail Online report, Uber confirmed that the incident is being investigated and the rider's profile has been removed from the app.
Uber has also been in touch with the driver following this incident, according to a statement given to the Daily Beast.
Responding to the incident, the Uber Support page tweeted: "Behavior like this is never okay. We have a zero-tolerance policy for discrimination.
"If you have more information about the Uber rider or driver please DM us so we can investigate this."
The Metropolitan Police Department of the District of Columbia has said that until an official complaint is filed it cannot open an official investigation, according to the Mail Online report.
Newsweek has contacted the police department and Uber for comment.