The estranged birth father of the 22-year-old suspect who allegedly opened fire at an LGBT nightclub in Colorado Springs, Colorado, on the night of November 19, killing five people and injuring 18 others, reportedly said he's relieved to hear his child isn't gay, but instead a mass shooting suspect.
In a video interview made by CBS 8 San Diego with Aaron Brink, the birth father of Anderson Aldrich, the man recalls wondering if Aldrich was gay after hearing about the mass shooting at Club Q in Colorado Springs.
"They started telling me about the incident, a shooting... And then I go on to find out it's a gay bar. I got scared, 'Shit, is he gay?' And he's not gay, so I said, phew... I am a conservative Republican," Brink told a CBS 8 reporter.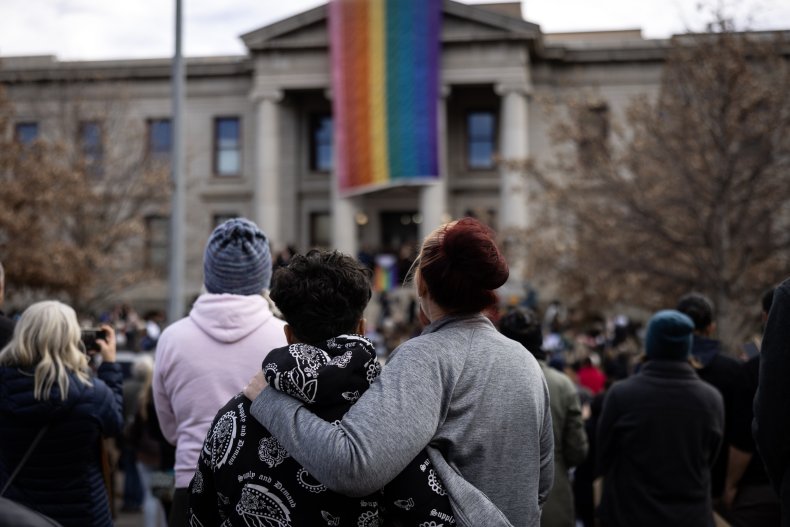 Aldrich—who according to their attorneys is non-binary and uses they/them pronouns—reportedly changed their original name, Nicholas Franklin Brink, to Anderson Lee Aldrich in 2016 in a petition signed by their mother, biological grandmother, and step-grandfather.
The name change was meant to protect Aldrich from future connection to their birth father, who the New York Post wrote is a former MMA fighter, porn star and crystal meth user with a criminal history.
Questioned by the CBS 8 reporter, Brink talks about being "adamant" about telling Aldrich that "gay is bad."
"We don't do gay," Brink said, mentioning being a Mormon, a conservative Republican and "anti-gay."
Later in the interview, Brink talks about letting "his son down" for praising them for violent behavior really early in life.
"I praised him for violent behavior really early. I told him it works... You'll get immediate results," Brink said, before going on to praise Republican politician Randy Voepel, saying he'll be president one day.
Voepel, a supporter of former president Donald Trump who can be seen wearing a MAGA hat on his social media pages, has been confirmed to KCRA 3 to be Aldrich's grandfather, though the two had not had a relationship for nearly ten years, sources told the California broadcaster.
Aldrich has been identified as the suspect who entered Club Q just before midnight on November 19, wearing a body armor and carrying an AR-15-style rifle and a handgun. The 22-year-old is accused of killing five people before being stopped by two people inside the club (including Army veteran Richard M. Fierro) who tackled the suspect and stopped the shooting.
He now faces multiple murder and hate crime charges.
Many, in the wake of the tragedy in Colorado Springs, have drawn a link between the deadly shooting and the anti-LGBTQ rhetoric promoted by conservatives pundits, groups and politicians in the past few years.
"Right now, families and friends are grieving for loved ones they have lost, and victims who survived are only just at the beginning of healing from this horrific attack. The LGBTQ+ community in Colorado Springs is devastated, and around the world, we are feeling a deep sense of sorrow, anger and fear," Stonewall, an LGBT rights charity based in the UK, and the largest of its kind in Europe, wrote in a statement to Newsweek.
"Speculating about the alleged attacker takes attention away from its rightful focus: the harm done to the community in Colorado Springs, and the love and support that community will need over the months and years ahead."